Activities
Dust and Sandstorm / Air Pollution Management
Joint Research on Dust and Sand Storms (DSS) among China, Korea and Japan
Dust and Sand Storms (DSS) has been recognized as a cross-boundary issue to be solved in North-East Asian countries , namely Mongolia, China, Korea, and Japan. It has caused economic and social impacts, including health, while the scientific mechanism has not been clear completely, and it requires partnership and cooperation among countries. To this end, OECC supports a joint study for DSS under framework of the Tripartite Environmental Ministers Meeting (TEMM) by China, Republic of Korea, and Japan. The joint research includes investigation of scientific mechanism, impacts, as well as vegetation management of DSS sources etc., and these have been conducted with particpation by leading scientists in these countries.
As part of MOEJ's information dissemination efforts, OECC had been commissioned also to manage DSS Observation Data Page as below.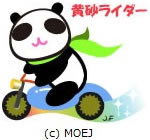 "DSS LIDAR", the image character of MOEJ Real-time DSS Information
Air Pollution in East Asia
Air pollution continues to be a serious problem in China, caused by Sulfur dioxide (SO2) and nitrogen oxides (NOx) emitted from fossil fuel combustion. In addition to that, rapid increase of PM2.5 oriented from automobile exhaust gas has had a big impact on health and sometimes caused asthma.
To tackle these issues in China and Mongolia, OECC has provided support not only on technology transfer but also on sharing lessons learned from Japan's long time effort to overcome air pollution. We have many stocks of lessons learned varied in levels, such as activities of national/city authorities, and business entities.